Mr. Obama Goes to Washington
And then What Happened, Mommy?
My latest literary undertaking, Mr. Obama Goes to Washington, And Then What Happened, Mommy?, is now, FINALLY, available!
It is a the usual -- cartoons and other irreverent observations -- of the Obama years, and all his many enemies that plagued him from start to finish. It will also pay attention to the rebirth of racism, so enamored of the Republican hate machine, as well as the emergence of that darkest of dark intruders, that depressing skunk at the garden party, Trump, and his oversized ego. Lotsa levity, whimsy and snark. I hope you will find a smile or two buried therein.
TO ORDER -- The book cost $15, plus $4 shipping. Please click CONTACT MIKE button (above) or click PayPal button.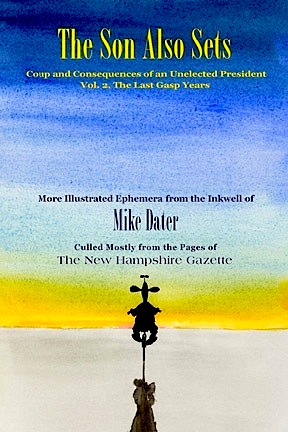 The Son Also Sets
The Son Also Sets, Vol. 2, The Last Gasp Years - Continues in the tradition of nailing the late and very unlamented administration to the cross when appropriate, which was all too often. The book also zeros in on the lengthy, tedious, and all too often pathetic, trite, vapid and embarrassingly asinine two years of the '08 presidential election. The two books together try to encapsulate the whole eight-year chapter of reactionary drear -- the New Dark Age from which we are now only beginning to emerge into the sunlight... well, at least let's hope so.
My hope for both books is that they provide enough impropriety, waggery and mischief along the way to make the reader's journey a satisfying one, maybe even - ironically - a pleasant one.

The Son Also Sets ($11.95 + $4shipping = $15.95.
TO BUY: Click CONTACT MIKE button or PayPal button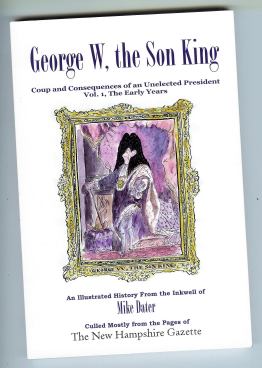 George W, The Son King




My first magnum opus, George W, The Son King, Coup and Consequences of an Unelected President, chronicles the first six years or so of the disastrous "presidency" of the creep in chief, George W. Bush, with all the usual indictments -- yellow cake uranium, nonexistent WMDs, an illegal war, dissing global climate change, embracing the religious dogma, authorizing torture, undermining the Constitution, illegally spying on U. S. citizens, &c., &c. The Bush Brigade did nothing but crank out misinformation, diversions, divisiveness, illegalities - and fear - all couched behind a wall of impenetrable secrecy. And did so until its last dismal hour.


To purchase --$15.95 = $4 shipping = $19.95, click CONTACT MIKE or PayPal button.

Thanks much,
Mike
July, 2017



View Cart / Check Out

---
| Return Home | Info to buy stuff | Political Cartoons | Golden Oldie Toons | A Bit of the Whimsical | More Artsy Stuff | NEW! a little irony | Mike's LATEST Book!! | Contact Mike here for any purchases or questions | Brief Bio, & FAQs. |