A more or less permanent gallery pertaining to issues which, unfortunately, just won't go quietly away. Some of the so-called Golden Oldies aren't in fact that old. They simply relate to issues that stick around - sort of like doggie poop on your shoe. Very annoying.
(Please scroll down for the Golden Oldies)
N.B. asterix indicate:
* included in first printing of George W, The Son King
**included in updated edition of George W, The Son king
• Almost without exception all the cartoons are drawn on standard computer paper, 8 1/2" x 11"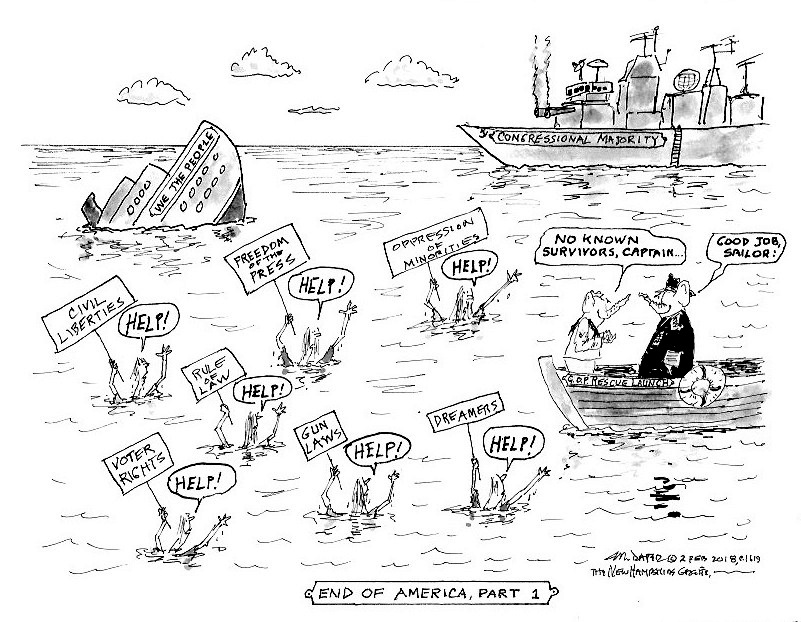 c-1619 - S.O.S. or S.O.L.? (End of America, part 1)


[file 8]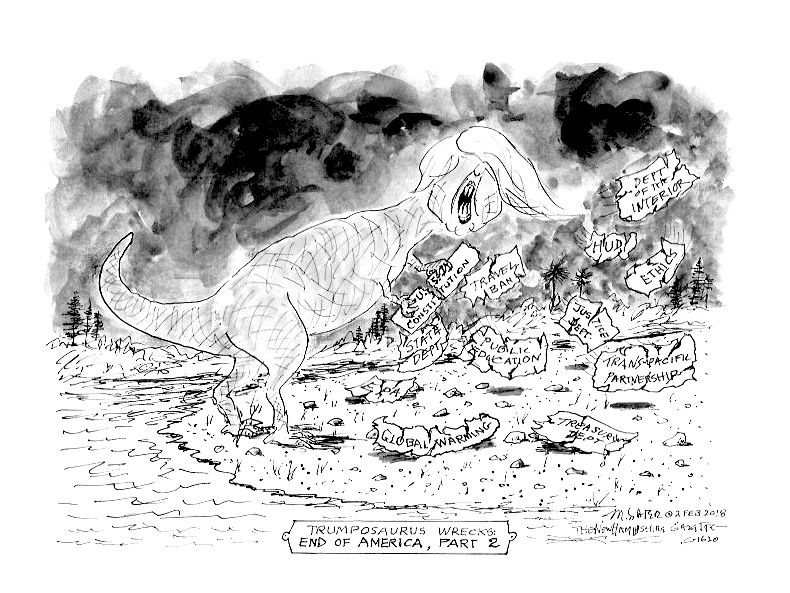 c-1620 - Paleomoment (End of America, part 2)


[file 8]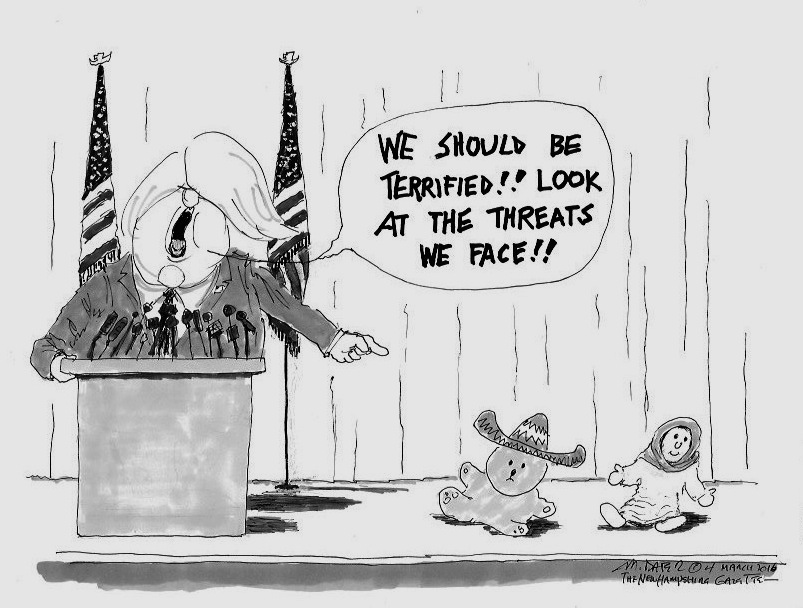 c-1441 - Be Very Afraid


[file E-16]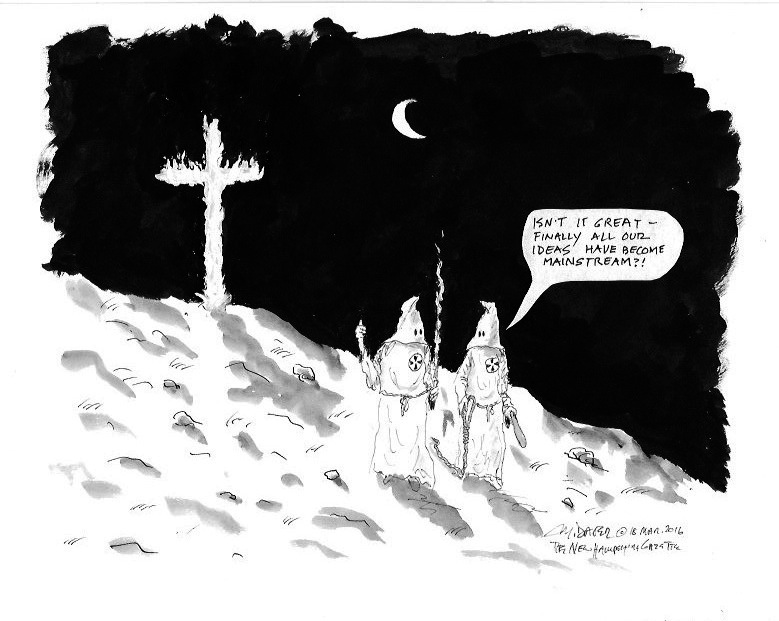 C-1442 - The Old Days Ain't So Dead Yet


file 7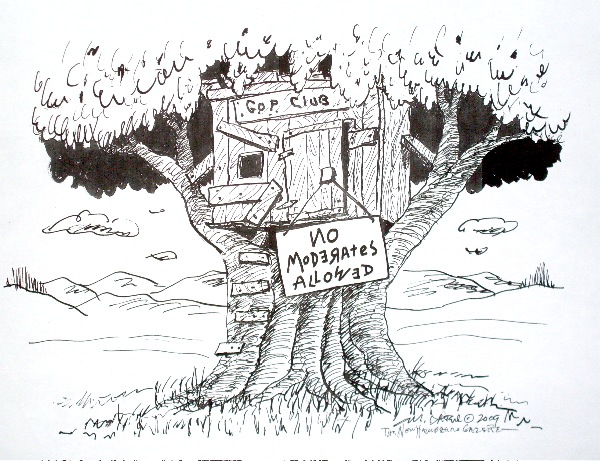 c-813 - Tree House du Jour


Maybe they never grew up and that really is the Republican's hideout. Sure as hell they're acting like it is.



[file 73]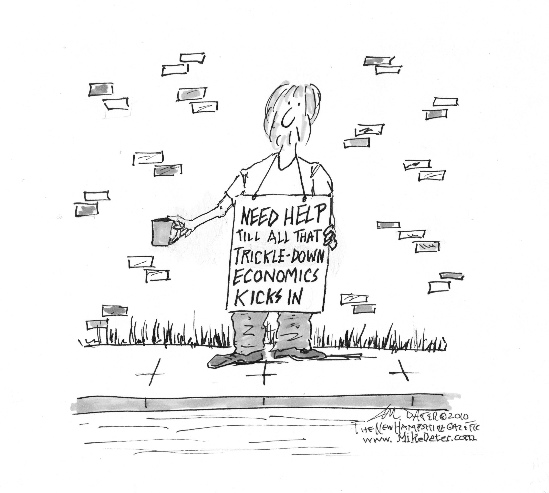 c-927 - Bummer


file 29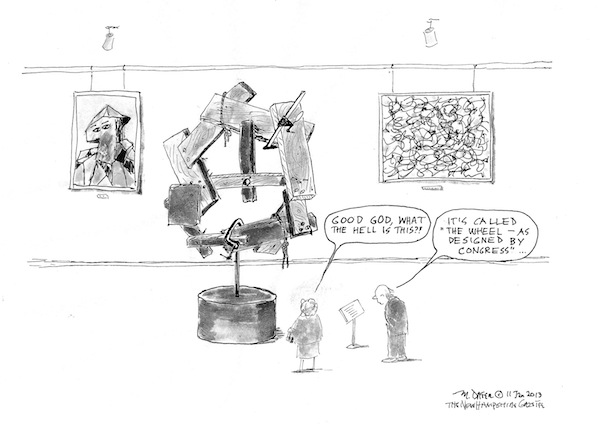 c-1129 - No Longer Available
Original SOLD, no copies available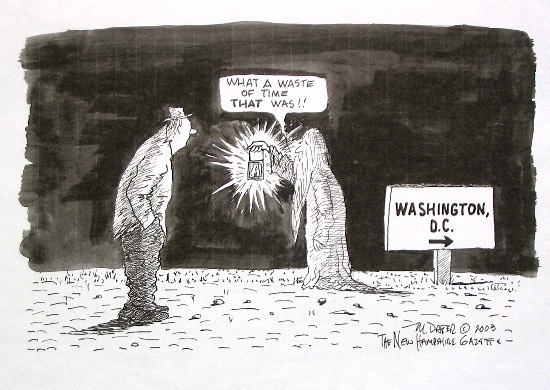 c-274* - Poor Old Diogenes


Maybe it's time he tried a career change...



Original currently missing, no copies avilable at present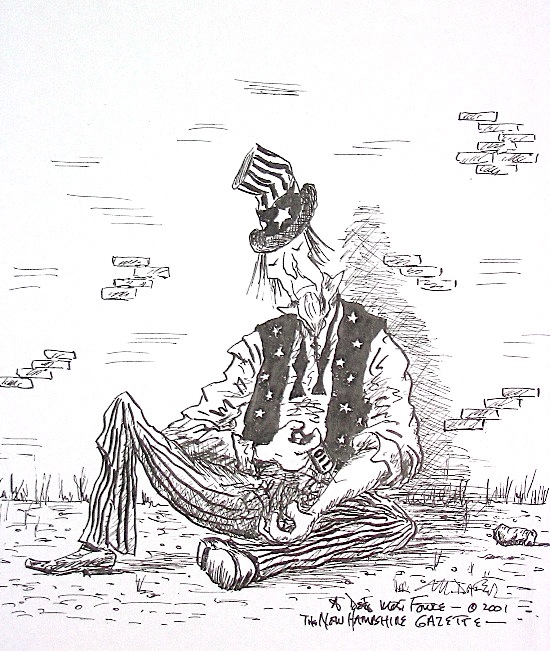 c-163* - Uncle Sam Shooting Up
Once addicted, alas, the victim can't too easily rid that infuriating monkey from his or her back. Just ask Sam.

(Original no longer available, copies only.)
[file 60]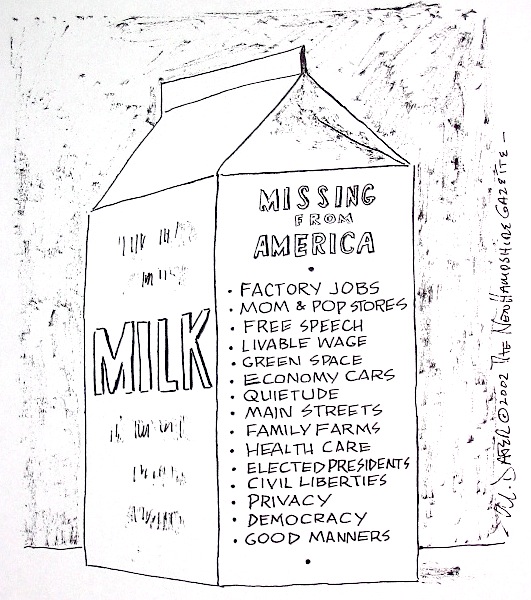 c-215* - Missing from America
Cheney and Bush aren't responsible for all the gone missing, but they sure did their part.

One "missing" above -- "elected presidents" -- was appropriate during our recent history when the W Bush was appointed, the Constitution notwithstanding. Things haven't gotten much better of late.

(Original is NFS -- only prints available.)

[file 8]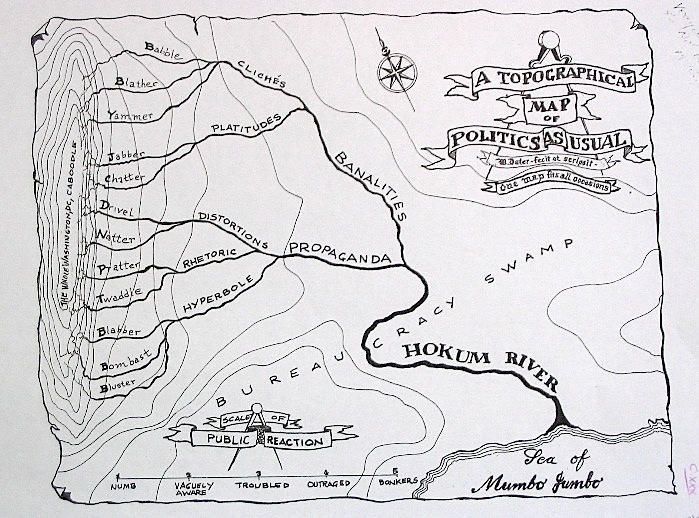 c-7(BG) [c47]*- Politics as Usual


Bamboozlespeak -- it will probably be with us till we blow up the planet.


(prints only available.)



[file 62.1]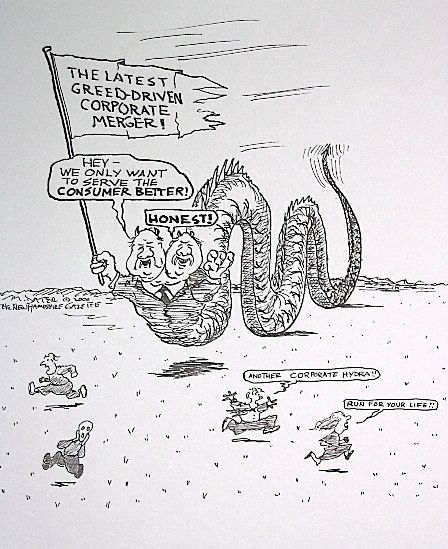 c-44* - Oy Vey - Another Merger
The terrified lady on the right (aka stage left) who's screaming "Run for your life" seems to be articulating some pretty sage advice. Too bad there is no place to run to.

(N.B. Currently not available; location of original unknown, and copies MIA or AWOL or both.)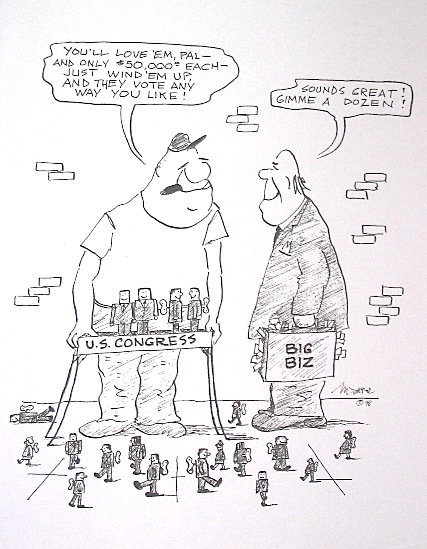 c-12(BG)* - Congress for Sale
About all We the Schmucks are good for these days is to to hump it down to the local school gymnasium every couple of years to put their surrogates in office.

(N.B. Location of original unknown -- gone missing. Only copies are available of this drawing.)


[file 11]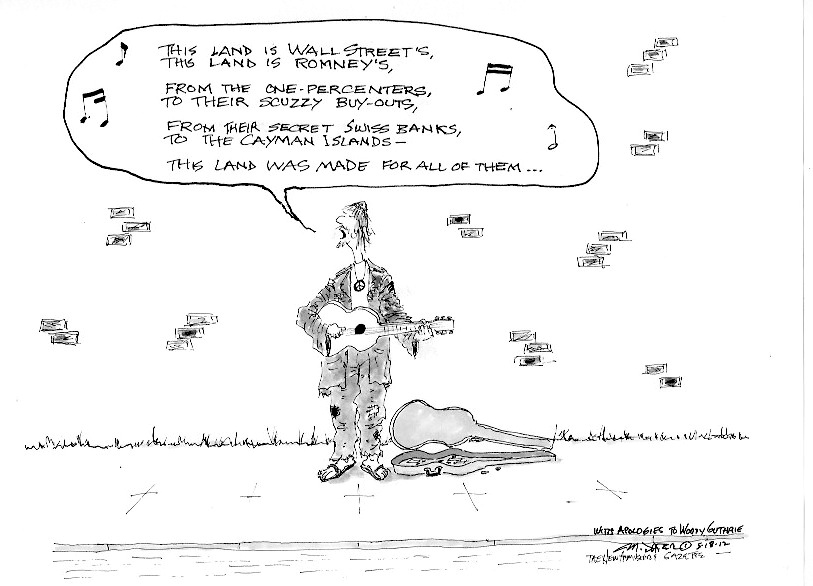 c-1069 - Woody Spoof




This drawing was apropos when Romney was running for president. Delete Romney and substitute the Zuckerberg ilk, still apropos IMHO.

[file 24.2]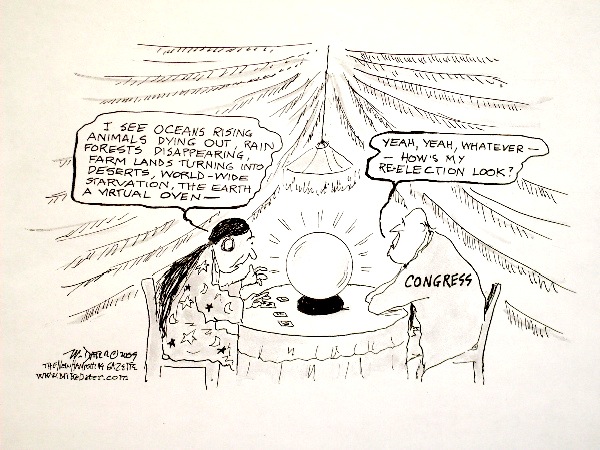 c-829 - What, us Worry?
We could probably run this cartoon from now till Dooms Day.
[file 29]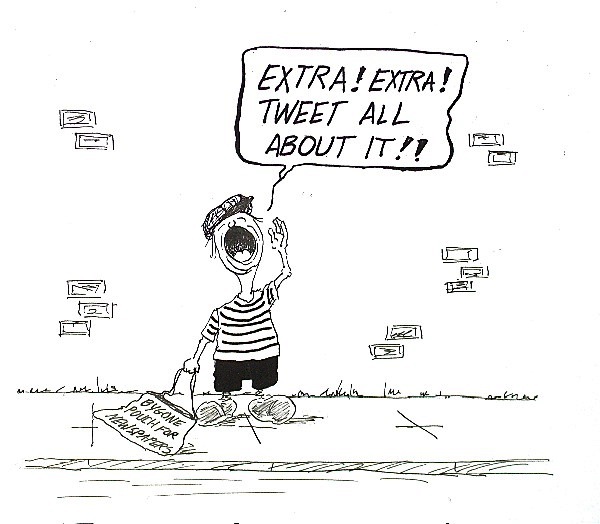 c-816 - The Latest Lament


Few of us of a certain age have no idea what Tweetering or whatever it's called is all about, except that it appears to be pushing many a daily paper off the edge of the earth.



[file 56]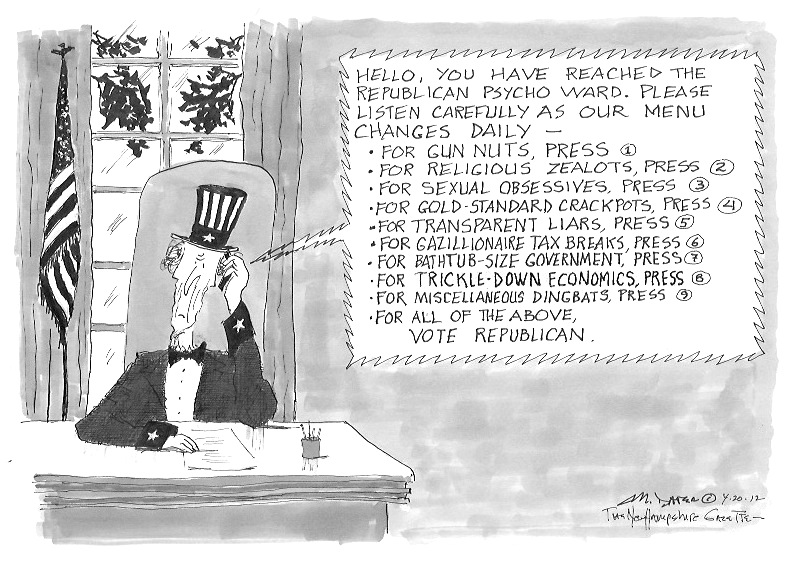 c-1063 - Recorded For Quality Purposes


[file 12E]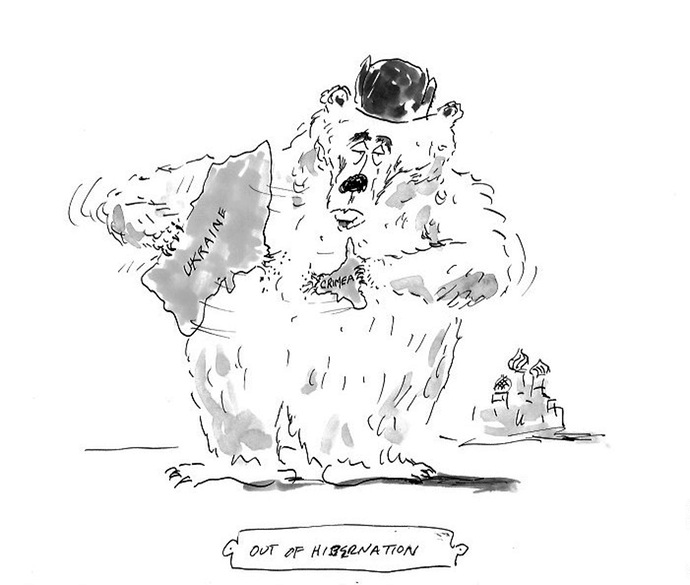 c-1221R - Out Of Hibernation




This cartoon was then. Now he wants the whole goddamn thing.

[file 72]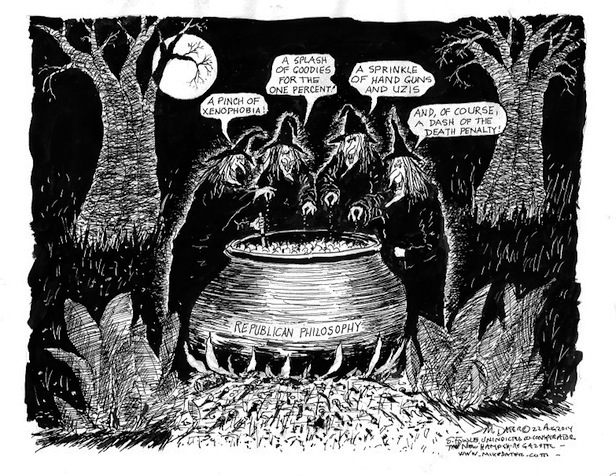 c-1260 - GOP Witches' Brew
ORIGINAL SOLD - Only prints available
[file 70]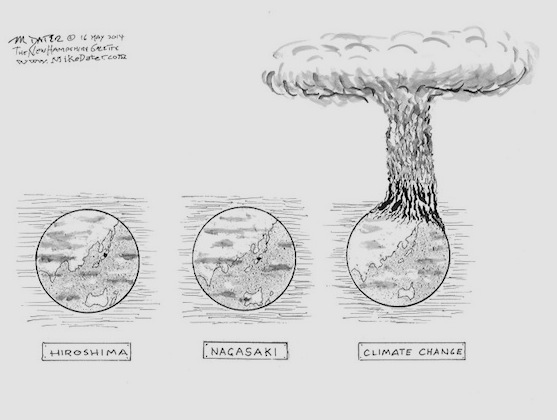 c-1238 - Kaboom


[file 37]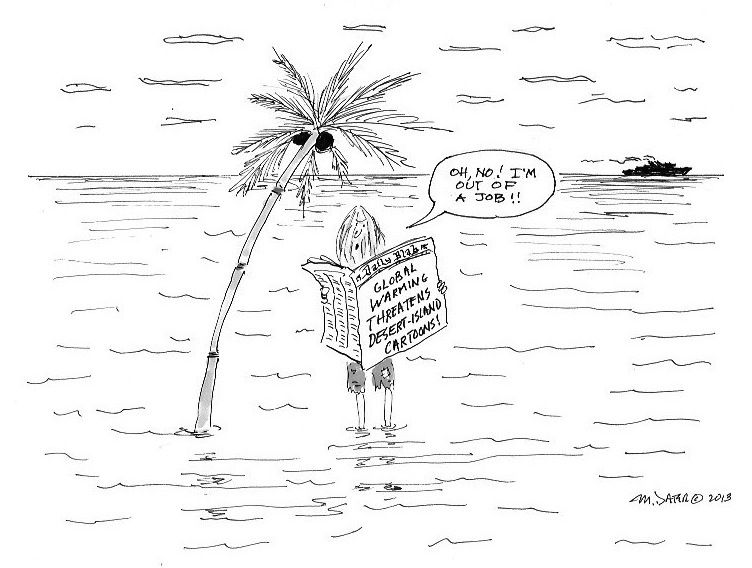 c-1137 - End of a Cartoon Cliché


[file 37]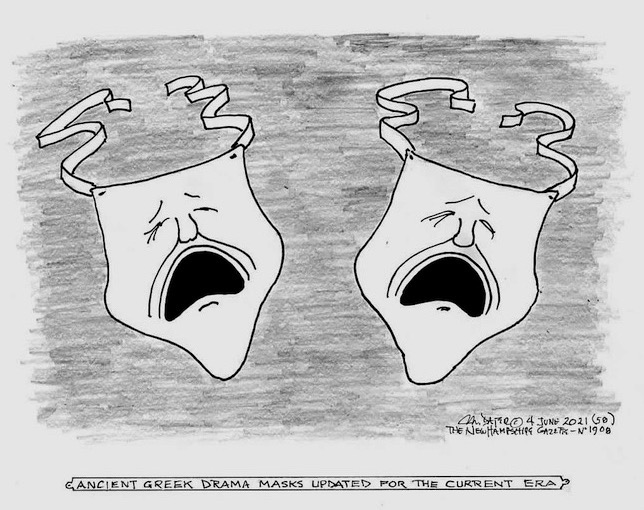 Masks Du Jour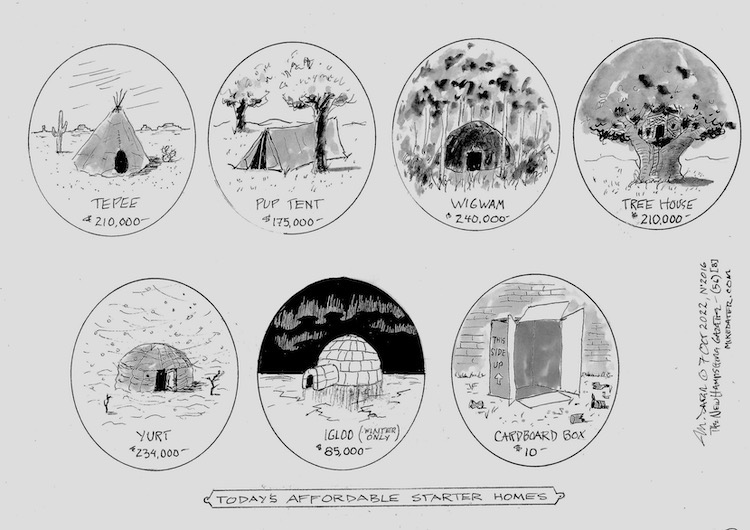 c-2016 - Real Real Estate
View Cart / Check Out
---
| Return Home | Info to buy stuff | Political Cartoons | Golden Oldie Toons | A Bit of the Whimsical | More Artsy Stuff | More Fanciful, Surreal Nonsense | Mike's LATEST Book!! | Contact Mike here for any purchases or questions | Brief Bio, & FAQs. |